Ploughing with a Utility Vehicle
Item Code: News 38
Product focus - The PathPro plough for UTV's

The PathPro has been designed specifically for utility vehicles with a 2" receiver.  It has been designed along the principles of the classic Meyer highway ploughs, which ensures it moves snow quickly and easily.
The Meyer PathPro is not "just another Plough.  It has many features that really make it stand out as the best commercial UTV blade on the market.
Patented self-angling
Self Angling automatically positions the plough to optimize performance
Self Angling allows the operator to keep eyes on the road and providing safer operation
Self Angling is quicker and faster than traditional lock-out mechanisms
Attaches or detaches in well under a minute
No need to leave the vehicle to angle the plough
Push button control
Patent Pending blade Design (Scoop & Funnel)
Two systems, one unit
Self Angling

 

automatically positions the plough to optimize performance
Five position Lock-n-Go

 

allows you to angle the moldboard in five fixed positions as needed
Scoop & Funnel
Dual flared wing moldboard design coupled with the 65º attack angle provides the

 
Scoop & Funnel
 

discharge action.
The height and attack angle of the moldboard provides optimum funnel action discharging snow faster and more efficiently.
Universal mounting system

The Mounting system for the UTV Plough allows you to connect straight into the 2" receiver, which is common on all many types of UTV from John Deere, Kubota, Kawasaki and Kioti.  The height is adjustable to suit different vehichles, and 3 choices of lift are available;  Hydraulic, Electric winch or Manual winch to suit the vehicle.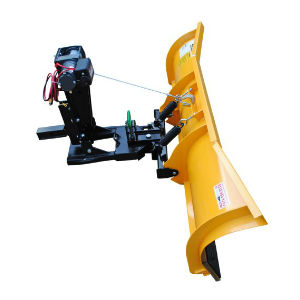 For more information please get in touch;
info@kerstenuk.com
0118 9869 253